If you've been looking for a high-quality mattress that will give you the support you need and bring exceptional comfort, all at pocket-friendly prices, then an Idle Sleep mattress fits the bill. Idle Sleep Reviews
Idle offers 4 outstanding mattress models that have been carefully crafted using high-quality materials. The Idle Hybrid, Idle Gel Foam, Idle Gel Plush, and the Idle Latex Hybrid have not only been built to last, they have been designed to bring exceptional comfort.
With a generous 18-month sleep trial, warranty without end, and free shipping, Idle Sleep mattresses have quickly become one of the most popular brands on the internet.
>>Get The Dest Deal On Idle Sleep Mattresses Here<<
The Idle Sleep Variety Of Mattresses
For a great night's sleep, a mattress needs to not only provide support for your body and pressure points, it also needs to be able to maintain an ambient temperature throughout the night. This is one reason why we love Idle Sleep as all their mattresses have been designed with support, comfort and temperature regulation in mind.
In comprehensive studies, it has been found that a major downside to a comfy sleep is overheating. Idle sleep has recognized this issue. If you tend to sleep hot, then I'm sure you, like me, will see Idle mattresses as a godsend.
Below, we are going to take a closer look at two of their most popular models, the Idle Hybrid and the Idle Latex Hybrid.
Idle Sleep Reviews: The Idle Hybrid and The Idle Latex Hybrid
Below I will highlight the benefits of both types of Idle Hybrid mattress so you can decide which one is best for you.
The Idle Hybrid Mattress
The word hybrid suggests an amalgamation of features in order to bring about the optimal benefits to the sleeper. Using multi-layer technology to combine latex, foam or gel with a supportive innerspring system, a person can benefit from the advanced pressure relief that foam or latex brings, with the supportive feel of a spring mattress.
The design of this mattress was made with comfort in mind. A significant feature is having the ability to help regulate body heat by transferring it away excess heat from the body during sleep.
A break-down of the mattress layers will explain why this Idle Hybrid is acknowledged as one of the most comfortable and supportive mattresses on the market.
The Leading Layer or Cover
It is vital for a good night's sleep to balance the advantages of a supporting mattress with the comfortable coolness of retaining an ambient temperature level.
The top layer of this mattress is made from a special cooling Thermocool™ fabric that regulates the heat from your body enabling comfort throughout the night. If you struggle with being too hot at night, you can depend on your Idle Hybrid mattress to assist you to remain cool.
Conversely, the Thermocool™ technology will also help to regulate your body temperature. This means that the Idle Hybrid will maintain an ambient temperature to help prevent you from getting too chilly at hight.
Second Layer
Although this is a naturally comfortable mattress, it is also extremely safe with 2 fireproof barriers.
Close to the surface area, and just below the cooling layer there is a thicker layer that will provide cushioning comfort as you conveniently settle into the mattress.
This reinforced layer is made from a type of contoured foam that is unique to Idle. It provides a comfy feel which is a pleasure to sleep on.
Special Layers
The cooling buoyancy foam is one of the main benefits that make this Hybrid stand apart from all other competitors. With a surround of edge to edge six-inch coils supporting the cooling layers, this layer provides a unique sleeping experience.
For over 30 years, The National Sleep Foundation (1) has been recognized as the expert voice of sleep health and science. The foundation promotes sleep education programs and advocates on the importance of sleep to a healthy general way of life.
Up until recently memory foam has constantly been considered a leader for a comfy night's sleep. Now, however, Idle has produced a product that has the ideal balance between soft comfort and ambient temperature.
The cooling buoyancy of the Idle Sleep mattress provides comfy assistance for your body while keeping a constant temperature level. The base layer of the mattress is comprised of a resistant harness that makes it easy to move to another space if needed.
Idle Hybrid Mattress – Firmness Levels
The firmness level is an essential consideration when picking a brand-new mattress and
Idle Hybrid can be found in two various firmness levels.
The medium ranges from 6 – 7 firmness and the high-end company mattress have a variety of 9 to 9.5
As a guide, roughly 80% of individuals who purchase Idle Hybrid mattresses select one with medium-range firmness. This is a proven option for side, back, or combination sleepers.
Obviously, everyone is a private and will have their own choices, and a person's weight might also be a consideration. A heavy person will feel more comfy on a firmer mattress.
There are many technical names offered to a range of sleep disorders and their cause and cure.
>>Get The Dest Deal On Idle Sleep Mattresses Here<<
Who Should Select the Idle Hybrid Mattress?
Another major advantage of the Idle mattress is that the leading layers including the cooling are strengthened and supported by filched coils. These coils are combined with Idle foam to accomplish the total comfort level.
The mattress offers a bouncy quality that is the precise opposite of memory foam in which you simply sink in limiting any movement at night since of this.
Overall assistance and recover are a crucial ingredient to any mattress, and the combination of the cooling layers offers total comfort to obtain that critical good night's sleep.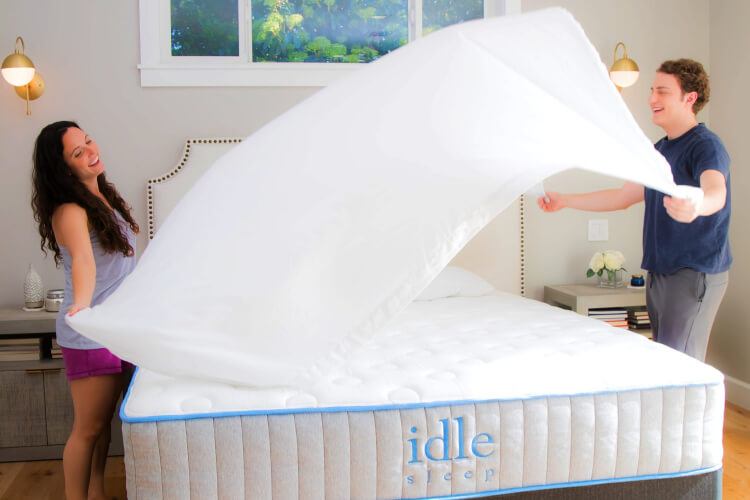 Dunlop Latex Hybrid Mattress – The 100% Natural, Option
The Latex Hybrid mattress is a combination of layers of various products. The mattress is available in an eco-friendly organic cotton cover. This natural cover supplies a degree of air blood circulation for freshness.
Listed below this cotton cover is a layer of natural wool that is over an inch thick. The quilted wool is laced directly into the mattress cover. Although this might seem like a possible fire threat care has actually been taken in manufacture to ensure it being fire resistant.
The 3rd layer is made from Dunlop latex which has a GLOC license. This layer is 3 inches thick and although it is a supportive layer it still permits the mattress to breathe.
Care has actually been taken that all products utilized in construction are eco friendly, with antimicrobial properties. Breathing more easily at night could be an advantage to you since of this.
This mattress has numerous enviable functions that consist of edge to edge pocket coils. Two supporting layers of latex cover the coils which supply excellent support.
The building and construction of this mattress makes it really durable, specifically on the base. There are handles on both sides for ease of transport and for turning and repositioning over to assist extend the life of the mattress.
Firmness levels are comparable, to the Idle mattress but lack the added benefit of the cooling layer. Some say that the latex alternative is better but that was before the Idle Hybrid benefits were genuinely, valued.
The aim of Idle sleep is to produce a high-quality, effective mattress at a cost effective rate. The Latex Hybrid is more pricey, and this is an appropriate indicate consider when purchasing.
The Latex Hybrid choice could be an extremely, excellent choice for anyone who delights in the thought of a greener environment.
Some people require less sleep in the evening than others but the quantity each specific needs depends on just how much complete relaxed sleep everyone gets while in bed.
There are numerous sleep conditions that can be developed by tension in modern-day living and are ending up being much more typical throughout the entire of the United States.
>>Get The Dest Deal On Idle Sleep Mattresses Here<<
State of The Art Innovation
The current innovation has actually been utilized to make the Idle Sleep mattress and the benefits of an extended period trial without cost ought to not be overlooked.
The combination of the coil supported foam will offer comfy support to any sleeping position. Add on the advantages of the air blood circulation system for keeping you cool at night and you have no excuse however to attempt one. Idle Sleep Reviews